Webinar: Spiritual Group Facilitation with Steve Nobel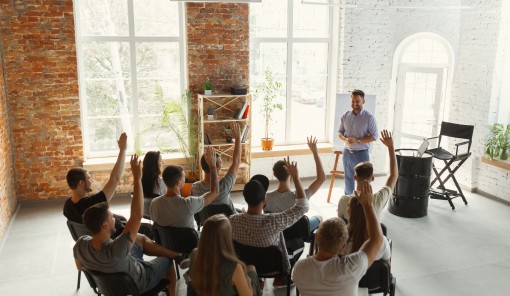 Webinar: Spiritual Group Facilitation with Steve Nobel
Thursday, July 30, 2020 -

19:30

to

21:30
Alternatives says:
This online course is for anyone interested in running a public event or series of events
Description:
This online course is for anyone interested in running a public event or series of events (whether online or in a room with a group of people) with a spiritual awakening or personal development focus. This course is for those who are beginning the journey and is also for those with some experience who wish to deepen their confidence and skill sets. The webinar is designed to be informational and experiential.
Group facilitation is not about transmitting a set of fixed beliefs or methodologies onto a group of people. It is about guiding a group within a clear set of intentions and outcomes that the group has signed up to.
The webinar will touch upon all aspects of the facilitation process and will include:
How to set clear learning outcomes for the group. The difference between teacher centred learning and student-centred learning.

Setting and holding energetic space which includes basic space clearing techniques, grounding techniques, self-protection techniques, calling in the group Higher Self.

What it means to facilitate others: setting agreed boundaries, inclusivity, empowering, inspiring, guiding, developing, explaining, checking understanding and flexibly responding to needs of the group.

Different learning styles, how we process information differently (visual, auditory, kinaesthetic.)

The importance of effective communication/presentation skills. How to gain confidence in speaking/leading small groups. Learning to lead exercises/meditations in groups.

An appreciation of group dynamics, looking at the motivation to move forward and also likely resistance that can occur in groups. Being aware of the need for inclusivity.

Learning pacing skills so as to not go too slow or too fast for the group. Ability to handle a broad range of students i.e. at different stages of development.

The facilitator toolkit including storytelling skills that help students connect with material or exercises in the course. Using a range of exercises to encourage left and right brain development.

How facilitation is a commitment to the facilitator's learning curve/path of personal and spiritual growth. When to include/exclude personal material in group facilitation.