The Ark - The Connective Carrier Between Humanity and the Creator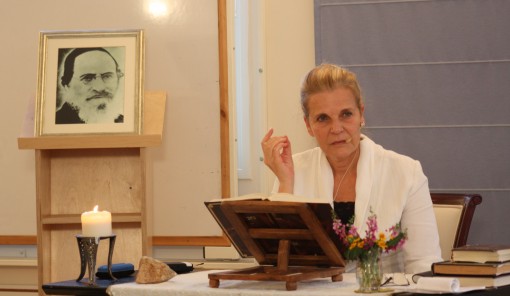 The Ark - The Connective Carrier Between Humanity and the Creator
Saturday, November 11, 2017 -

10:30

to

17:00
Alternatives says:
A challenge for our definition of spirituality
Description:
Much has been said, wrote and taught about the ancient Wisdom of Truth - The Kabbalah.
Rabbah Saphir Noyman Eyal - the spiritual leader and founder of Mishkan Hakavana in Israel, invites you to join a unique and rare opportunity to enter the place in which one can understand and experience a spiritual space and time.
It is an invitation to take part in building an Ark - the meeting place with the higher, and to let yourself be touched by the Light concealed in the sacred text of the Zohar and Kabbalistic writings.
The workshop will be divided into three parts:
●     Following an introductory lesson, in which the Rabbah will teach the premises and conditions one needs to observe in order to be granted an entrance into the sacred texts, she will present the three stories of the Ark that we are going to build together:
The language of the World - Space - The requirement of building a place for spiritual ecology
The Language of Change - Time - how we can harness time as an agent of the process of Tikkun
The Language of the Soul - spiritual senses - the inner realm where the presence of the text enables the spirit to be built.
●     Attendees will then have the opportunity to study the sacred texts in a Hevruta group study - guided by specific guidelines that enable us to establish the connective language between group members.  Questions raised during the study will then be answered by Rabbah Saphir.
●     In the later part of the workshop, Rabbah Saphir will introduce the order of spiritual work left for our generation by Baal Hasulam* and how following the studies we can prepare ourselves for a true connective prayer.
*Baal Hasulam - the greatest revolutionary Kabbalist who created the gates for our generation to enter the spiritual world of Tikkun